1/12 IMPACT Wrestling Preview: Rich Swann vs Karl Anderson, Kimber Lee vs Taya, Final Stop Before Hard To Kill
IMPACT Wrestling returns tonight with their final broadcast before this weekend's highly anticipated Hard To Kill pay-per-view. The IMPACT World Champion Rich Swann will be in action, previewing this Saturday's main event in a first-time-ever singles match against "Machine Gun" Karl Anderson.
Join us for live coverage of IMPACT Wrestling tonight at 8:00 PM ET.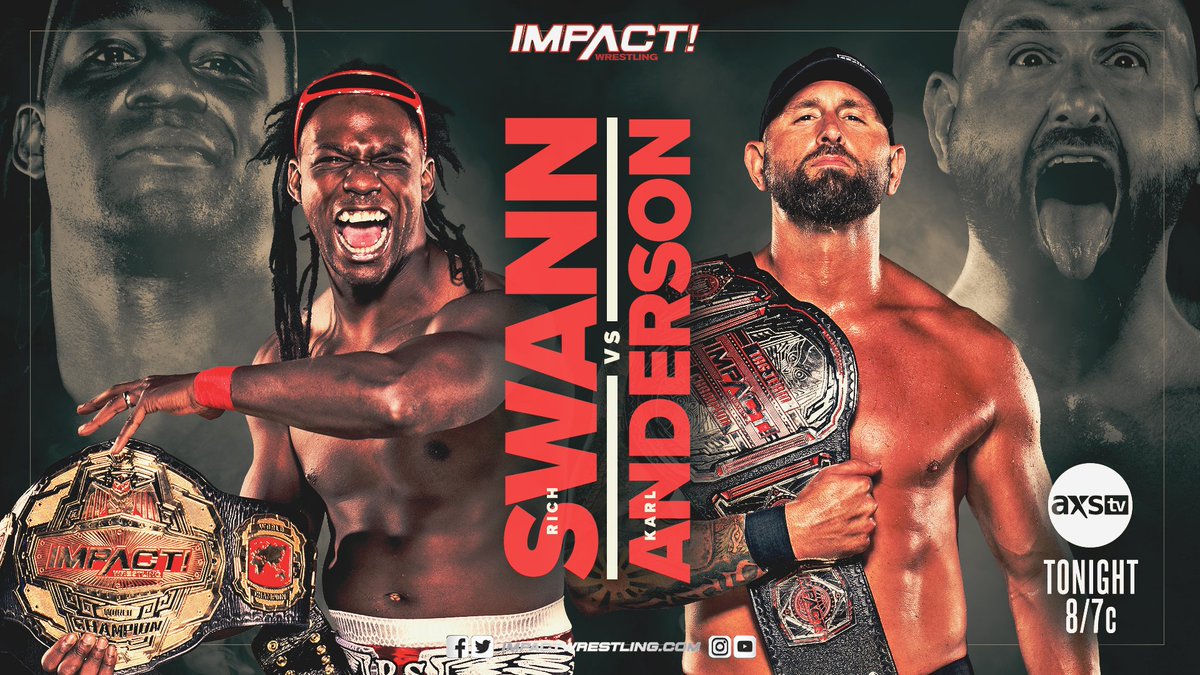 IMPACT World Champion Rich Swann vs. "Machine Gun" Karl Anderson | AEW World Champion Kenny Omega & Don Calls To Appear At The IMPACT Zone
As noted, this is the first time these two well-seasoned wrestlers have locked up one-on-one. In fact, as hard as this may be to believe, it's actually the first time Swann and Anderson have ever shared a wrestling ring at all.
At Hard To Kill it will be Swann and the Motor City Machine Guns going into battle together against the reunited AEW World Champion Kenny Omega and the IMPACT World Tag Team Champions, Doc Gallows and Karl Anderson. Given the crossover promotion with All Elite Wrestling over the past month or so, it's hard to think of a more hotly anticipated IMPACT pay-per-view main event in recent memory.
Omega and his manager, IMPACT EVP Don Callis, have promised to make an appearance tonight "at the IMPACT Zone", which is pretty specifically worded and sounds like they'll once again be leaving the comfort of their tour bus. Chances are, this match between Swann and Anderson ends in an all-out brawl, and we're here for it.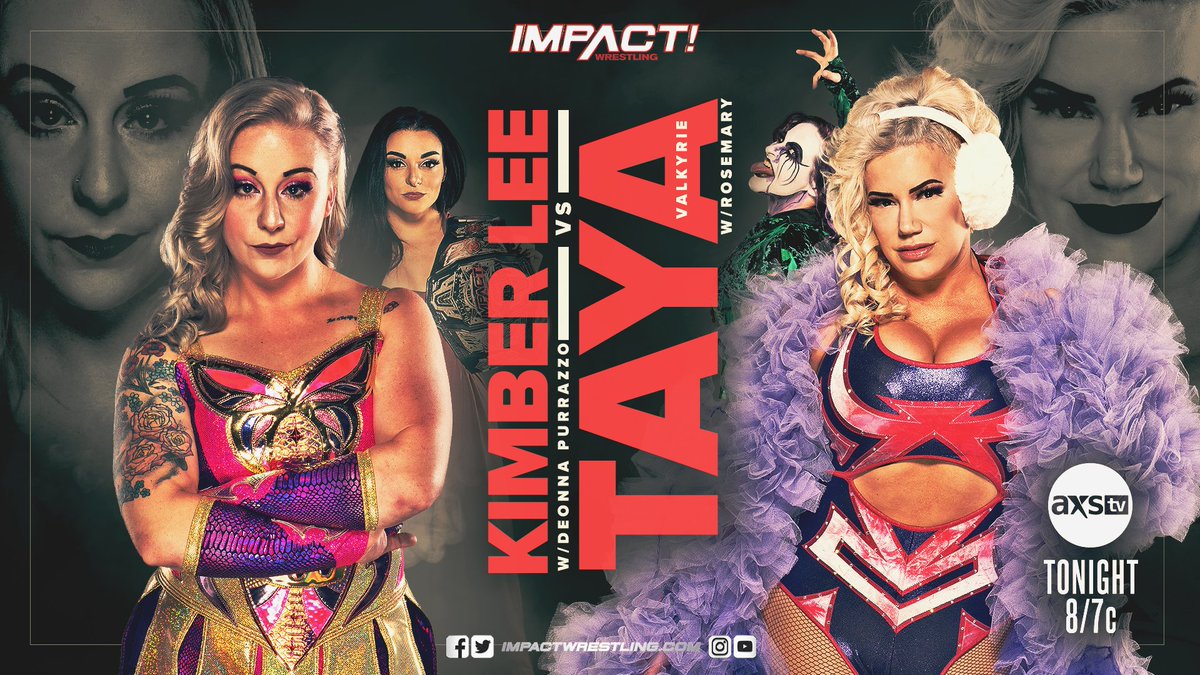 Kimber Lee vs. Taya Valkyrie
Taya is just days away from an opportunity to recapture the Knockouts Championship, but she'll have to go through the most dominant woman on the roster right now to do it.
It'll be the reigning champion Deonna Purrazzo defending against the longest reigning champ in IMPACT history this Saturday at Hard To Kill, but tonight Taya gets a warm up facing Deonna's bestie Kimber Lee.
Taya pinned Kimber Lee in their first ever encounter at Bar Wrestling in 2020, and more recently teamed with Rosemary to knock her and Deonna out of the Knockouts Tag Team Title Tournament. Kimber Lee is one of the best women wrestling right now though, so if this is given time it could be a hell of a match on the go-home show.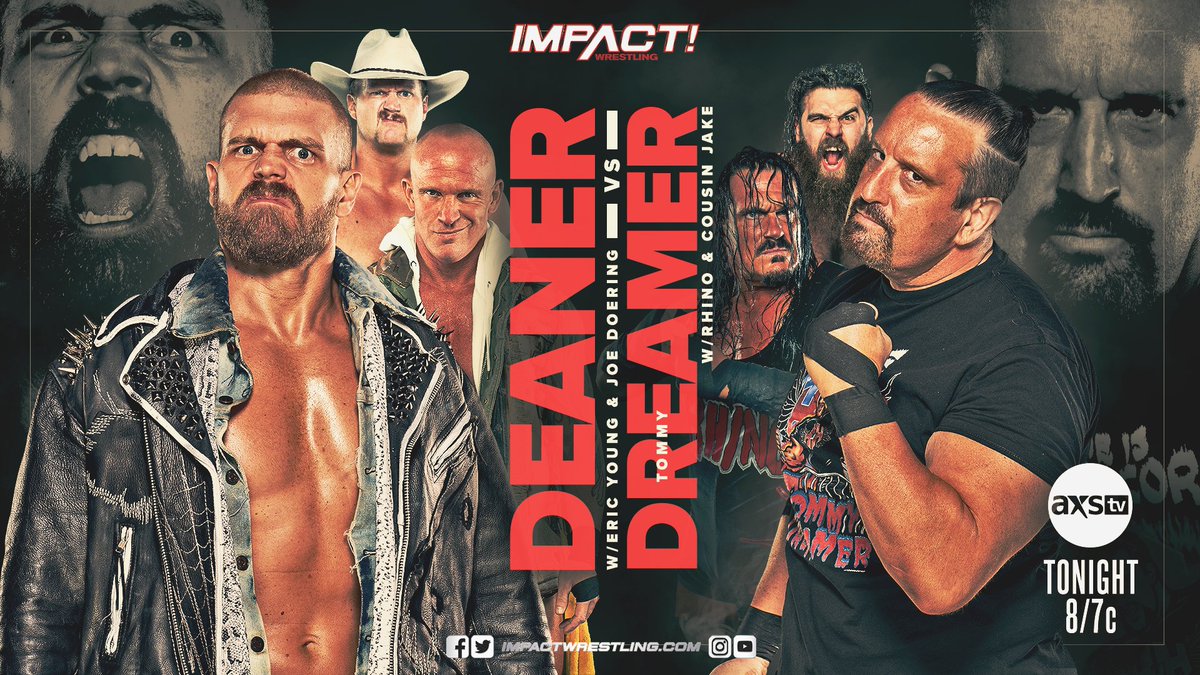 Cody Deaner vs. Tommy Dreamer
Another Hard To Kill preview here.
Cody Deaner recently turned to the dark side, betraying Cousin Jake and joining forces with the completely unhinged Eric Young, who has been running unchecked through the IMPACT roster for months now.
It's been awesome to see the longtime Canadian journeyman get his due on television and sink his teeth into some of the best work of his career, and it will hopefully given big Jake (Something) the chance to shine as a singles star as well.
Cousin Jake gets his chance at revenge this Saturday, teaming with a pair of hardcore legends in Tommy Dreamer and Rhino for a six-man Old School Rules match against Eric Young, Cody Deaner and Joe Doering. Tonight it will be Dreamer trying to get his team a bit of momentum going into that bout.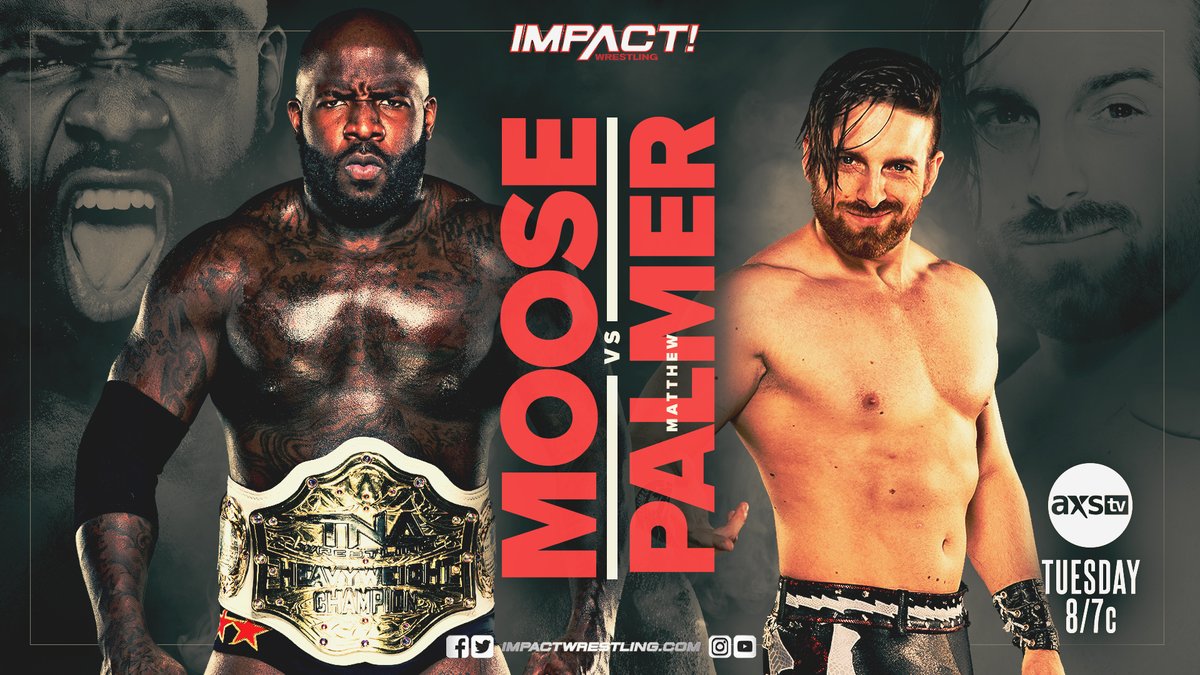 Moose vs. Matthew Palmer
A few weeks ago, hired security had to hold back Moose during a pull-apart with Willie Mack, and in the chaos an indie wrestler named Matthew Palmer accidentally pissed off the big man.
This led to Moose claiming that Palmer couldn't last three minutes in the ring with him. However, when the time actually came for that Three-Minute Challenge, a distraction from Mack caused Moose to let the clock run out, effectively giving Palmer the "victory". Tonight Palmer's job won't be as easy – and we say "easy" knowing he damn near got knocked out cold last week just trying to stay alive for three minutes.
Moose faced Willie Mack in an "I Quit" match this past weekend at IMPACT Genesis. He actually knocked out his opponent to the point where he could no longer quit the match, but continued beating on him until IMPACT World Champion Rich Swann gave him a title opportunity just to stop.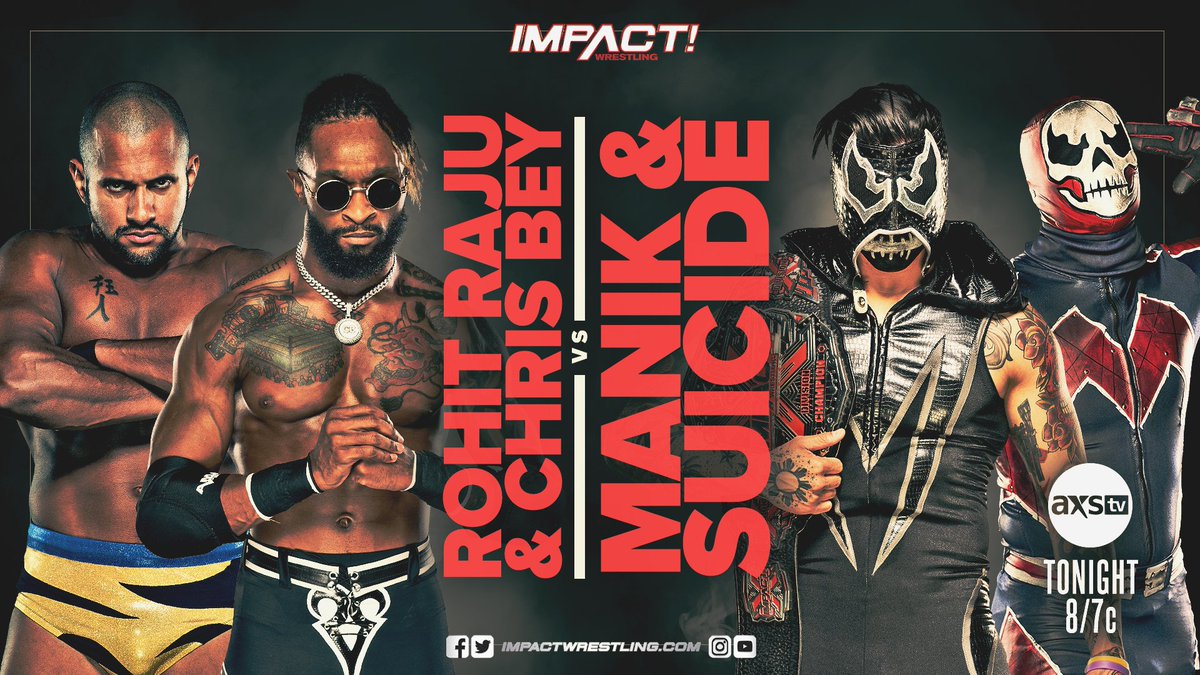 Chris Bey & Rohit Raju vs. Manik & Suicide
I absolutely love how ridiculous this scenario is. The idea of a potential Manik/Suicide tag team also makes me giddy as a diehard fan of some of TNA's more absurd stuff over the years, and that definitely includes a video game character "coming to life" as a longtime staple of the X-Division.
If you're new to the IMPACT product, the reason this is kind of neat is that Manik was a replacement for the Suicide character, and they've both been played by TJ Perkins.
Alright so hang in there with me for a second. Rohit Raju won the X-Division title in 2020 by basically weaseling himself in and out of every single challenge thrown against him. That's not to say he didn't produce in the ring and make for a great champion – he just did everything and anything to retain the belt in an impressive seven defenses.
One of those defenses was against TJP, with the stipulation that if TJP lost the match he could never again challenge for the title while Rohit was champion. So of course, the self-proclaimed "Desi Hitman" rubbed salt in the wound and continued prodding at him until Perkins found a way to get back at the belt. Allegedly.
Manik returned at Final Resolution to take the title from Rohit, and ever since then he's been trying to prove that TJP is under the match. The idea being that if he unmasks the champion, he'll have to give the belt back since, technically, TJP wasn't allowed to be in that match.
So here we are. A battle of four former and current X-Division Champions. Two of them may or may not be the same person. It's also a preview for Hard To Kill, where Manik will defend the title in a triple threat against both Chris Bey and Rohit Raju.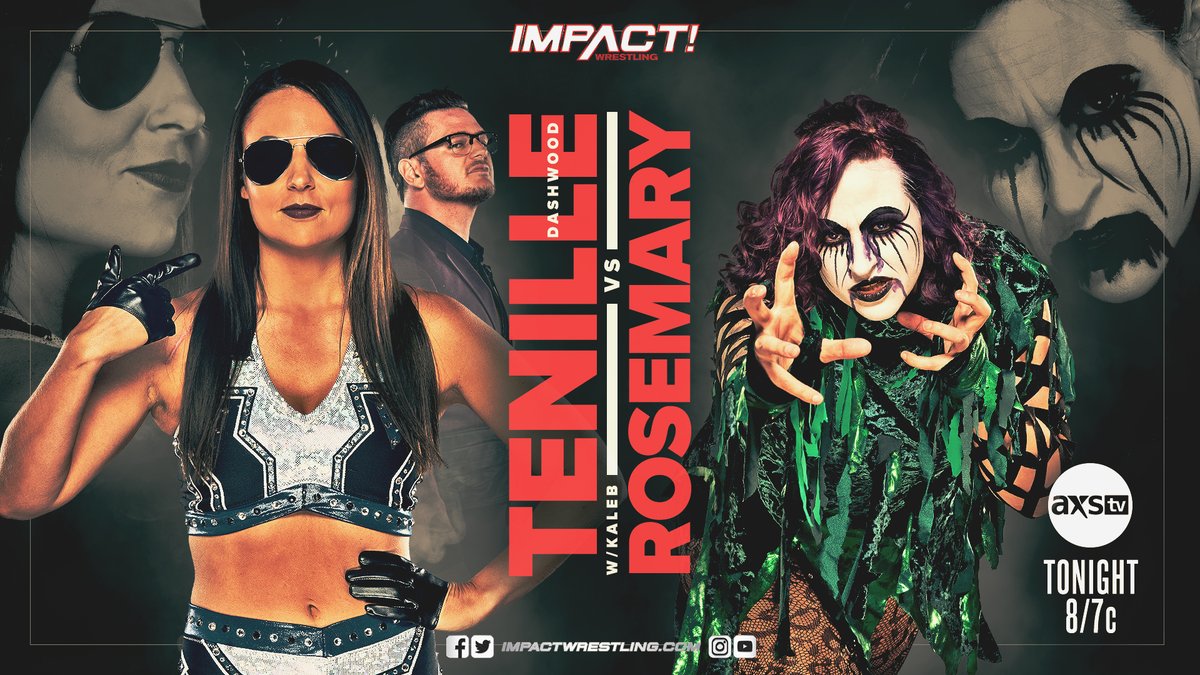 Tenille Dashwood vs. Rosemary
This is kind of a minor, lowkey program but it will hopefully produce a decent match. That's if Tenille actually gets in the ring and isn't too concerned with taking selfies and that whole shtick to actually wrestle.
The story here is that she's been looking for a tag team partner for months, but her self-centered B.S. basically makes the task impossible. Last week she tried to convince Rosemary that her friend Taya Valkyrie was moving on without her, starting with the Knockouts title match at Hard To Kill, resulting in this match being setup.
IMPACT Wrestling Hardcore Justice Results: Title vs Career, Hardcore War, Women's Weapons Match & More
This show is currently streaming on IMPACT Plus and FITE. Women's wrestling legend Jazz puts her career on the line for one last chance at Deonna Purrazzo and the Knockouts Championship this afternoon. Plus an 8-man Hardcore War, a women's weapons match to determine the #1 contender and more.
IMPACT Wrestling: Hardcore Justice Results
April 10, 2021
— Triple Threat Tag Team Match: Josh Alexander & Petey Williams def. TJP & Fallah Bahh and Ace Austin & Madman Fulton. This was a preview for the X-Division title match at Rebellion with all three competitors finding tag partners. All six looked great with non-stop action. Lots of innovative offense but not so much that they were just running through spots aimlessly. Fulton and Bahh looked like monsters and then collided at the end. The finish saw Petey hit the Canadian Destroy on the champ, Austin, while Alexander slapped an ankle lock on Bahh for the submission.
— "Chairly Legal" Match: Shera def. Hernandez. Two big dudes brawling around smacking each other with steel chairs. Shera superplexed Supermex into a pile of chairs at the end but he somehow kicked out. Rohit Raju ran out and hit Hernandez in the head with a chair to allow Shera to get the win. Looks like Rohit is trying to mend fences after their fallout.
— Doc Gallows def. Black Taurus. This was way too slow for my taste as Gallows controlled most of the offense. It ended with another distraction/interference finish with Karl Anderson getting on the apron. Gallows powerbombed him to win. Taurus is WAY too good to be in spots like this. Reminds me of how TNA used Okada when he was young.
— "Crate American Bash" Match: Matt Cardona def. Johnny Swinger. There were creates on each of the turnbuckles with things instead. I have no idea why. One of them had a mouse trap that Swinger caught his fingers on.
— Sami Callihan def. Sam Beale. Callihan issued an open challenge before the match. This was basically a squash that Callihan won with the Cactus Piledriver.
— Hardcore Blindfold Rules: Jake Something def. Brian Myers. Both men had blindfolds on with weapons everyone. Commentary talked a surprise amount about them maintaining contact and wrist control to make it at least somewhat "technical". Of course Myers ended up removing his mask with the ref down and superkicked Something. Cardona came out with one of the crates from earlier and slid it into the ring. Something broke it over Myers' head and action figures flew everywhere, allowing him to hit the Black Hole Slam for the win.
— Weapon's Match: Tenille Dashwood def. Rosemary, Alisha Edwards, Havok, Su Yung and Jordynne Grace. They did some cool tricks with sillouettes and lighting effects to make it look like Su Yung returned and attacked "Susan" to take her place in the match, which scared the hell out of everyone. Tenille won after spending most of the time running away from people and trying to get involved as little as possible. Kaleb with a K got taken out early in the match by all the women, but came back at the end to cost Jordynne the match.
— Title vs. Career: Deonna Purrazzo (c) def. Jazz to retain the Knockouts Championship. These two had a good, physical match. Jazz may be a bit more limited than she was in her prime but it's awesome that she got to come back, kick ass, have some good matches and end her career on her own terms.
— Hardcore War: Violent By Design def. Rich Swann & Willie Mack & Eddie Edwards & Trey Miguel. Everyone entered one at a time so there was constantly a numbers game advantage until the end, like in WarGames. So this was originally Tommy Dreamer's main event as he had booked the whole show, but someone took him out backstage. D'Amore found a replacement in Trey Miguel who came out last with a crowbar to clean house. It occured to me at the end that EY has a torn ACL and I don't even know how the dude was moving around, let alone doing some of the spots he was doing. Mack took the fall after EY hit him with a piledriver.
Chairs Match, Hardcore War, Triple Threat Tag & More Announced For IMPACT Hardcore Justice
Seven matches have now been announced for IMPACT Wrestling Hardcore Justice.
We now know that Ace Austin will defend the X-Division Championship against Josh Alexander and TJP in a triple threat match at IMPACT Wrestling Rebellion on April 25. Ahead of that, each wrestler will find a partner for a triple threat tag team match at Hardcore Justice.
Tommy Dreamer will also look to teach Violent By Design a lesson after the group attacked Chris Harris backstage and left both Chris Sabin and James Storm lying unconscious in the ring. It'll be Dreamer and three mystery partners against the whole group this Saturday.
Doc Gallows vs. Black Taurus, Shera vs. Hernandez in a Chairs Match, and Brian Myers vs. Jake Something in a Hardcore Blindfold Match have all been announced for Hardcore Justice. Something was caught in the crossfire between Myers and Matt Cardona this week on IMPACT Wrestling television.
Join us this Saturday at 3:00 PM ET for live coverage.
---
IMPACT Wrestling: Hardcore Justice
April 10, 2021
Title vs. Career
Deonna Purrazzo (c) vs. Jazz
Triple Threat Tag Team Match
Ace Austin & Partner vs. TJP & Partner vs. Josh Alexander & Partner
Number One Contender's Weapons Match
Jordynne Grace vs. Susan vs. Tenille Dashwood vs. Havok vs. Rosemary vs. Alisha
Hardcore War
Violent By Design (Eric Young & Joe Doering & Cody Deaner & Rhino) vs. Tommy Dreamer & Three Mystery Partners
Hardcore Blindfold Match
Brian Myers vs. Jake Something
Chairs Match
Shera vs. Hernandez
Doc Gallows vs. Black Taurus
4/8 IMPACT Wrestling Results: Road To Hardcore Justice, Omega & Swann Clash In Six-Man Tag
IMPACT Wrestling Results
April 8, 2021
* * *
— Havok & Jordynne Grace & Rosemary def. Alisha Edwards & Nevaeh & Tenille Dashwood. This was a preview for the six-woman Weapon's Match at Hardcore Justice this Saturday. Rosemary was the one who got the hot tag and the win at the end, catching Alisha with the Red Wedding. Havok and Nevaeh were focussed on each other the whole time after their recent split and both went through a table.
— Matt Cardona was asked his thoughts on Brian Myers rejecting his challenge and wasn't upset because as he's said repeatedly, he didn't come to IMPACT to dig up issues with his old tag team partner. Tonight he's got Jake Something to focus on.
— It is confirmed that Taylor Wilde is behind the recent vignettes featuring a return/debut in the Knockouts division. They're not advertising a date yet so the most likely scenario is either at Rebellion or the TV tapings immediately after the PPV.
— Jake Something vs. Matt Cardona ended in a No Contest. This was fun while it lasted and succeeded in making Something look good, as they've been building him up recently. Brian Myers attacked both men and went after Cardona's eye. He changed his mind and accepted the challenge for a match at Rebellion.
— XXXL confronted Trey Miguel who continued to claim he wouldn't be teaming up with Sami Callihan, tonight or any other night, despite them being advertised for a tag team match.
CONTINUED ON NEXT PAGE >>