– Episode 7 of The Steve Austin Show is now online and can be heard at PodcastOne.com. This week, "Steve goes to war with a Fly in his Mexican hotel room."
– Former WWE Diva Kelly Kelly noted on Twitter that she and boyfriend Sheldon Souray recently adopted a new bulldog. Kelly, who is now brunette, tweeted the following message and [topless] photo of herself sunbathing with the new dog (click to enlarge):
#puppylove #mommasboy #helovesdaddytoobutmemore #ourgrowingfamily @SSouray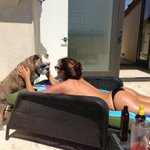 – Paul Heyman's HeymanHustle blog has posted an exclusive new photo gallery of former WWE Diva, international fashion designer and soon-to-be wife of The MIz, Maryse.
* Recent Photos of KELLY KELLY & Her Boyfriend At A Fashion Show