UPDATE: Game Informer has more details on the changes that 2K Games will be making to WWE 2K15 now that they have full control over the property. When they acquired the license from THQ last year, the game was too far into production to make many changes. The game will be the next-gen debut of the series on the Playstation 4 and Xbox One, along with a release on Playstation 3 and Xbox 360.
Developer Visual Concepts will work with Yukes to have more control this time. It will add the scanning technology it used in the NBA 2K games and already has 90% of the in-game roster scanned in. In an interesting note, the classic version of Hulk Hogan is in the game but the current version has been scanned. Other wrestlers in the game include John Cena, Bray Wyatt, Daniel Bryan, AJ Lee, Roman Reigns and Cesaro.
The character models for the wrestlers are a lot closer to real life. Hair, skin, faces and ring gear have been upgraded and more facial expressions have been recorded so wrestlers will have more realistic emotions in the game. A "facial rig demo" for Cena showed expressions of "pain, excitement, and exertion".
The goal is to make the game closer to WWE's TV presentation, which means that VC is also trying to make match pacing and flow more realistic. They have a new motion capture studio with an actual WWE ring set up by a real ring technician. This means there will be five times the amount of animations in 2K14.
There will be a new cutoff date for WWE content which means the characters and storylines will be closer to current WWE. In other words, it's less likely that someone who has been fired will be in the game and someone who just debuted won't be.
Audio is also getting changed with "five times" the sound of the last game. Jerry Lawler and Michael Cole will be recorded at the same time to create more natural conversation. There will be 30-35 hours of commentary per announcer to prevent many repeats.
2K hasn't revealed the theme of the game and it hasn't revealed the gameplay, but that could happen at E3 tomorrow. It will be released on October 28.
ORIGINAL: Take-Two Interactive, publisher of 2K Sports' WWE 2K15, is at E3 in Los Angeles and will reveal game details on Thursday night. Right now, there is a banner at the event that shows the first four playable characters: John Cena, Hulk Hogan, Bray Wyatt and Cesaro.
The game will be released on October 28 for the Playstation 4, Xbox One, PS3 and XBox 360.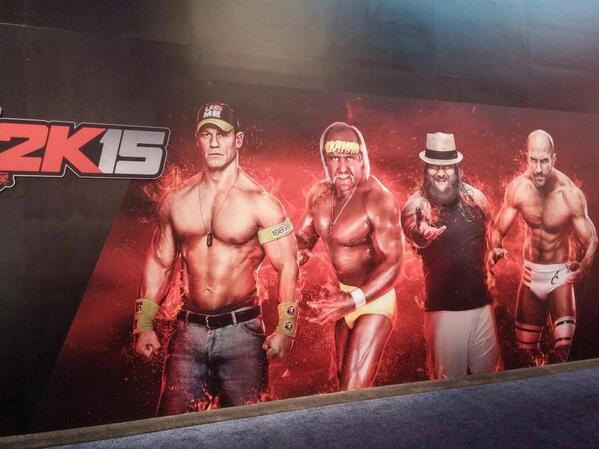 100% DIRECT LINK (PHOTOS): Kelly Kelly & Her HOT Mom In Their Bikinis! HOLY SH#@#*#$!! **MUST-SEE-NOW**!!!