For the first time ever, New Japan Pro-Wrestling's annual marquee event, Wrestle Kingdom at the Tokyo Dome, will take place across two nights in the historic venue.
The action gets started TONIGHT with a card stuffed from top to bottom with incredible talent and intriguing matches, including Jon Moxley in a Texas Death Match, the return of a junior heavyweight legend in the making, the retirement match of an all-time great, and of course the hotly debated Double Gold Dash.
Wrestle Kingdom 14 airs live around the world streaming on FITE TV and NJPW World, with a one-hour kickoff show starting at 2AM ET / 1AM CT / 11PM PM, so make sure you join us then for live coverage and up-to-the-minute news.
---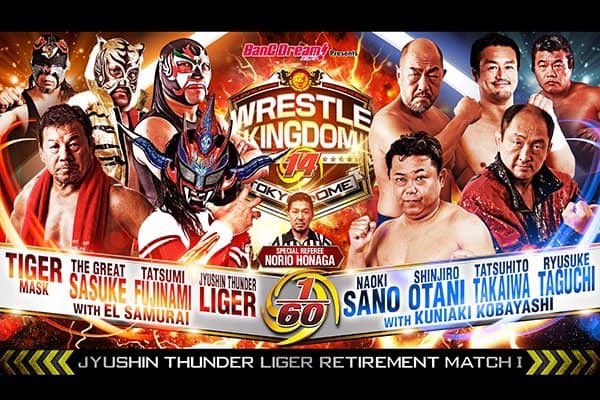 JUSHIN THUNDER LIGER RETIREMENT MATCH #1
Jushin Thunder Liger, Tatsumi Fujinami, The Great Sasuke & Tiger Mask vs. Naoki Sano, Shinjiro Otani, Tatsuhito Takaiwa & Ryusuke Taguchi
It's still hard to fathom a world in which Jushin Thunder Liger isn't an active professional wrestler, and yet here we are on the threshold of his final two performances. From a starving kid rejected by the NJPW Dojo for being too small, to arguably the single most influential junior heavyweight wrestler in history; the 35-year-plus career ends at the Tokyo Dome, as it should.
While there's no hard and fast rule about this, the bigger Japanese retirement matches generally tend to lean heavily towards nostalgia. There's no lack of it here in this all-star 8-man tag team match. Liger alone boasts 11 reigns and 2245 collective days as IWGP Jr. Heavyweight Champion. Add to that WWE Hall of Famer Tatsumi Fujinami, 80s rival Naoki Sano, 90s rival Shinjiro Otani, a 50-year-old Great Sasuke who can still pull off some impressive offense, and… well, Ryusuke Taguchi, who is a whole different kind of legendary.
Oh, and if that's not enough, two-time junior heavyweight champion and '97 Best of the Super Juniors winner El Samurai will accompany Team Liger, great Tiger Mask rival Kuniaki Kobayashi will accompany the opposition, and 64-year-old Norio Honaga, who fought Liger in the finals of the second ever Best of the Super Juniors in '91, will be the special guest referee.
Prediction: Team Taguchi Wins. Look. You, me and the whole world would love nothing more than to see Liger run wild, hit all his moves, score one final victory and ride off into the sunset – but it ain't gonna happen. Liger will go out on his back like a true pro, because that's Liger. I've been wrong before, but this one would be a surprise. If there's any chance at a Liger win here, it will be because he also has a match on Night 2 where he can give his real last win to a younger star.
---
LOS INGOBERNABLES DE JAPON vs. SUZUKI-GUN
BUSHI, EVIL, SANADA & Shingo Takagi vs. El Desperado, Minoru Suzuki, Taichi & Zack Sabre Jr. 
This is largely a preview for Sabre's defense of the RevPro British Heavyweight Championship against SANADA on Night 2, as well as a convenient way to sneak both of these factions on the card, even if it's not exactly the great Tokyo Dome Shingo Takagi match we were all hoping for. But let's move past the disappointment, because even with two nights of action there are PLENTY of big singles and tag team matches, and this 8-man clash is still very likely to be a whole lot of fun.
There's also been a lot of talk about a possible angle with Minoru Suzuki, although two sources within NJPW told me rumors of him leaving the company are "premature" and "blown out of proportion". You never know. A subset of vocal fans have been clamoring for a Los Ingobernables shakeup for quite some time as well. That said, if anything major happens it's more likely to take place on 1/6 at New Year Dash.
Prediction: Los Ingobernables de Japon wins, with SANADA pinning a member of Suzuki-Gun that isn't Zack Sabre Jr. It sends a message to set up the title match on Night 2 – an especially potent message if he manages to pin Suzuki himself.
---
CHAOS vs. BULLET CLUB
Hirooki Goto, Tomohiro Ishii, Toru Yano & YOSHI-HASHI vs. Bad Luck Fale, Chase Owens, KENTA & Yujiro Takahashi
Much like the previous tag team match, this is essentially a preview for KENTA vs. Hirooki Goto on Night 2 for the NEVER Openweight Championship. And much like the previous tag team match, a lot of people are disappointed that we're not getting a bigger match for Tomohiro Ishii at the Dome, after yet another underrated year full of show-stealing performances, one after another.
Prediction: CHAOS wins, I guess… Maybe I'm thinking too small here, but I'm going to go with the exact same "challenger wins to send a message to the champion" setup, with Goto likely pinning Owens or Takahashi, with Fale there if they want to make a bigger statement.
---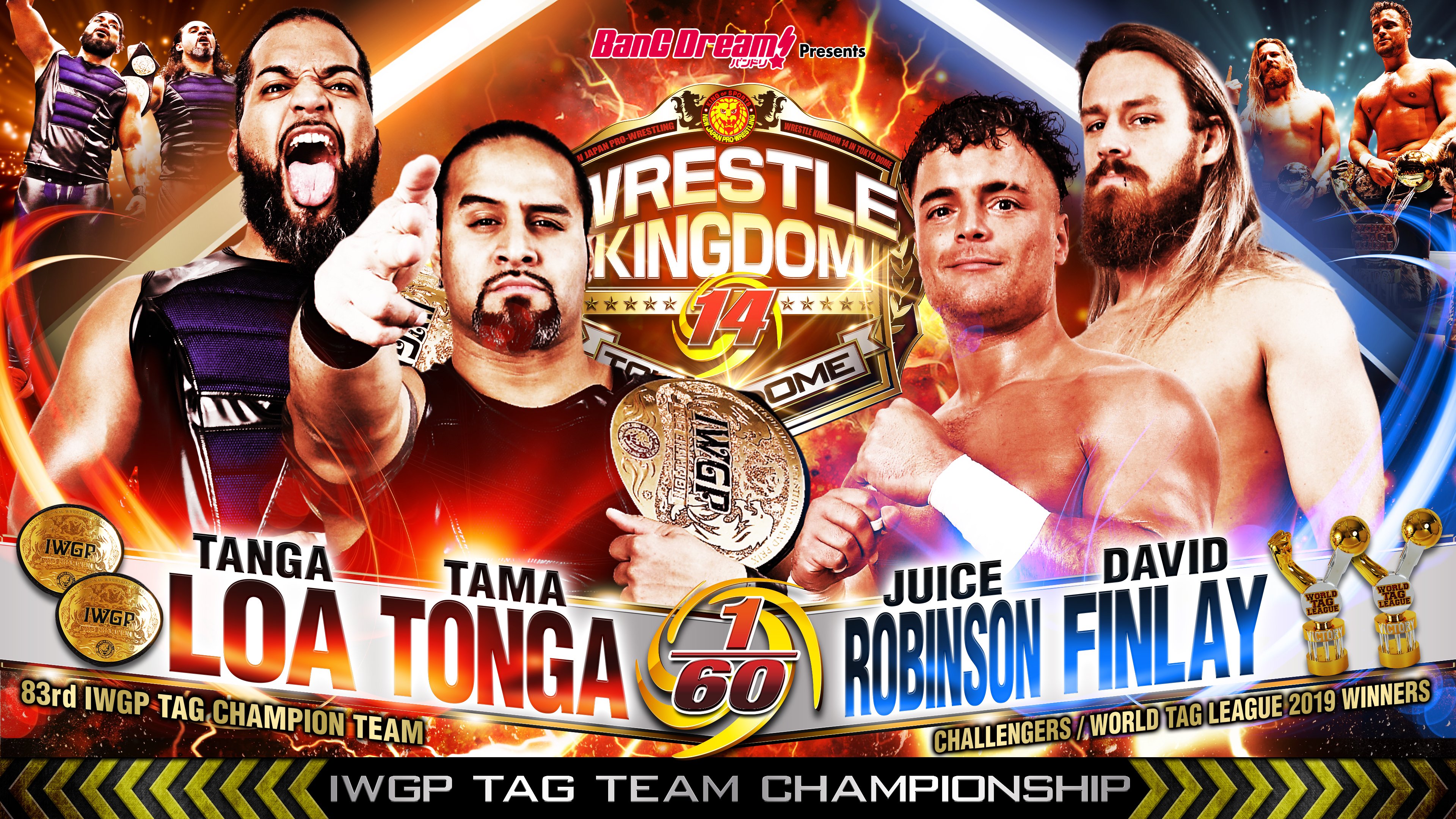 IWGP TAG TEAM CHAMPIONSHIP MATCH
Guerrillas of Destiny (c) vs. David Finlay & Juice Robinson
Bullet Club's Guerrillas of Destiny are bound and determined to successfully defend their titles at the Tokyo Dome, but they're coming up against a team of rapidly rising, young and hungry Americans who just had the performance of a lifetime in the 2019 World Tag League.
I think most fans had them doing well in the tournament, with solid support as the dark horse pick, but I don't think anyone accurately predicted that they would score 26 points in the single-block round robin, only losing twice to earn the #1 contender's spot. Here's the thing though – of those two losses, one of them was to GoD.
This is a big moment for FinJuice. Robinson has fought Cody Rhodes twice at the Tokyo Dome and slowly risen up the NJPW ranks. In fact, 24 hours after this match, he'll be competing against either Lance Archer or Jon Moxley in a major U.S. heavyweight title match. David Finlay hasn't had those kinds of opportunities. Injuries and excursions have kept him a few paces behind his Dojo mate and close friend, but after returning like a bat out of hell at King of Pro-Wrestling, that gap is starting to seem a bit slimmer. A win here goes a long way.
Prediction: FinJuice get the win to become new IWGP Heavyweight Tag Team Champions. The time is right. Fans don't seem to be digging GoD's current reign, Finlay is on fire, and NJPW has generally done really well booking Juice at Wrestle Kingdom each year, incrementally making him a bigger and bigger star, slowly but surely. He also has to face Archer or Moxley on Night 2, and I don't see him going into a U.S. title match coming off a big loss.
---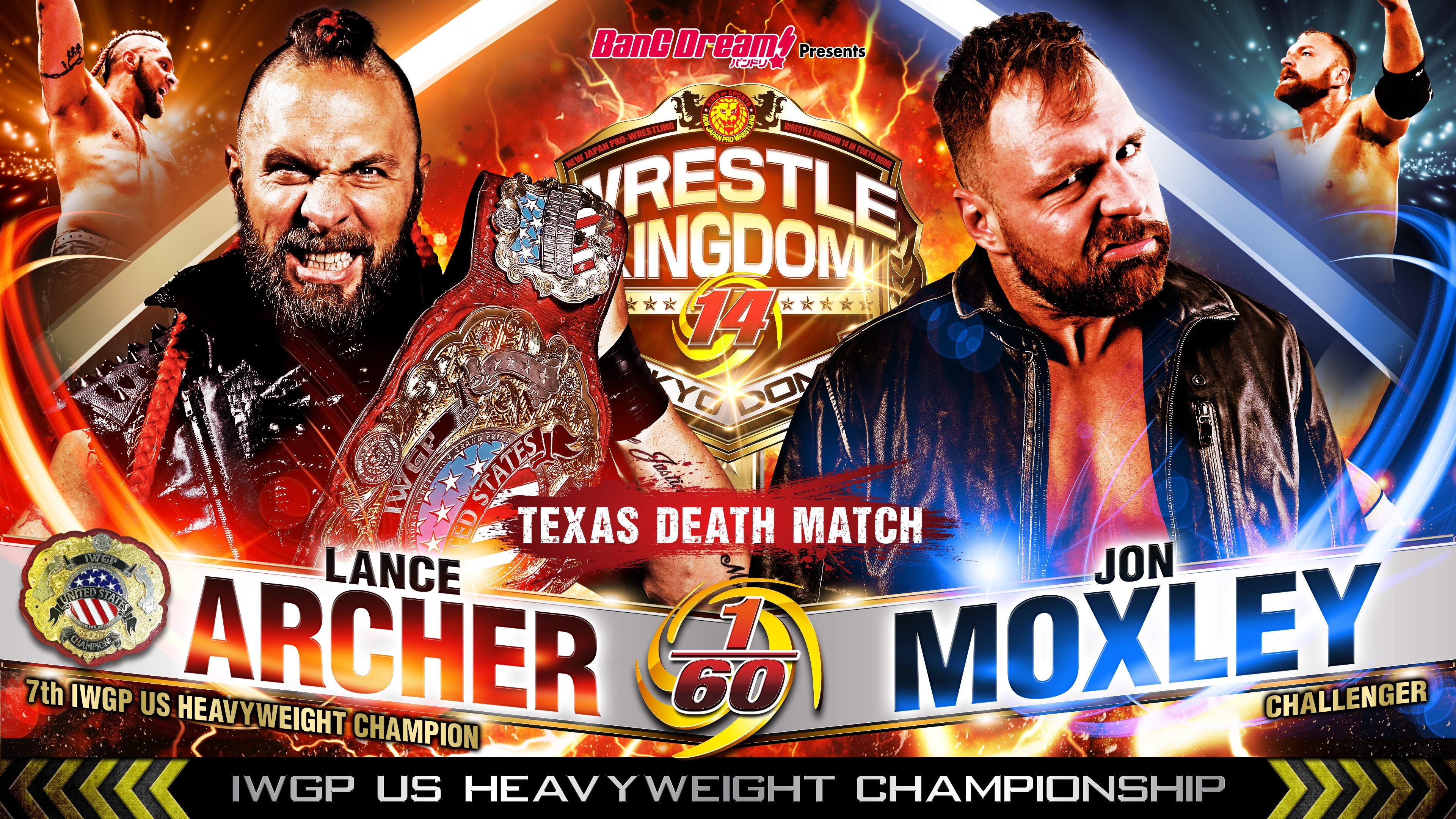 IWGP U.S. HEAVYWEIGHT CHAMPIONSHIP TEXAS DEATH MATCH
Lance Archer (c) vs. Jon Moxley
We may never actually get to the three final matches if these two inadvertently burn the Tokyo Dome to the ground in what is guaranteed to be violent on a level rarely ever seen in a NJPW ring.
You may recall, Moxley was stripped of the U.S. title in October due to travel issues from Typhoon Hagibis. It's a NJPW philosophy that if they advertise a title match, they deliver a title match, even when a literal Act of God has stranded the champion in a different country. So Mox was stripped to preserve the integrity of the belt, and Archer won it that very same day in an impromptu match against #1 contender Juice Robinson.
The rules are pretty simple. There are no disqualifications, and no pinfalls. The only way to win is to force your opponent to submit, or by knockout/referee stoppage. It's a perfect stipulation for these two psychopaths. It's Moxley's first Tokyo Dome match EVER and Archer has a chip on his shoulder and something to prove – a dangerous combination that means they're both guaranteed to work their asses off. This should be a good match.
Prediction: Jon Moxley wins to become the second two-time U.S. heavyweight champion. As much as I'd love Archer to score a big upset here, the fact that he was never supposed to be champion in the first place doesn't inspire me with confidence. We never got the Mox/Juice rematch we were promised either, so that makes sense as the obvious match on Night 2. You never know though, they could surprise us.
---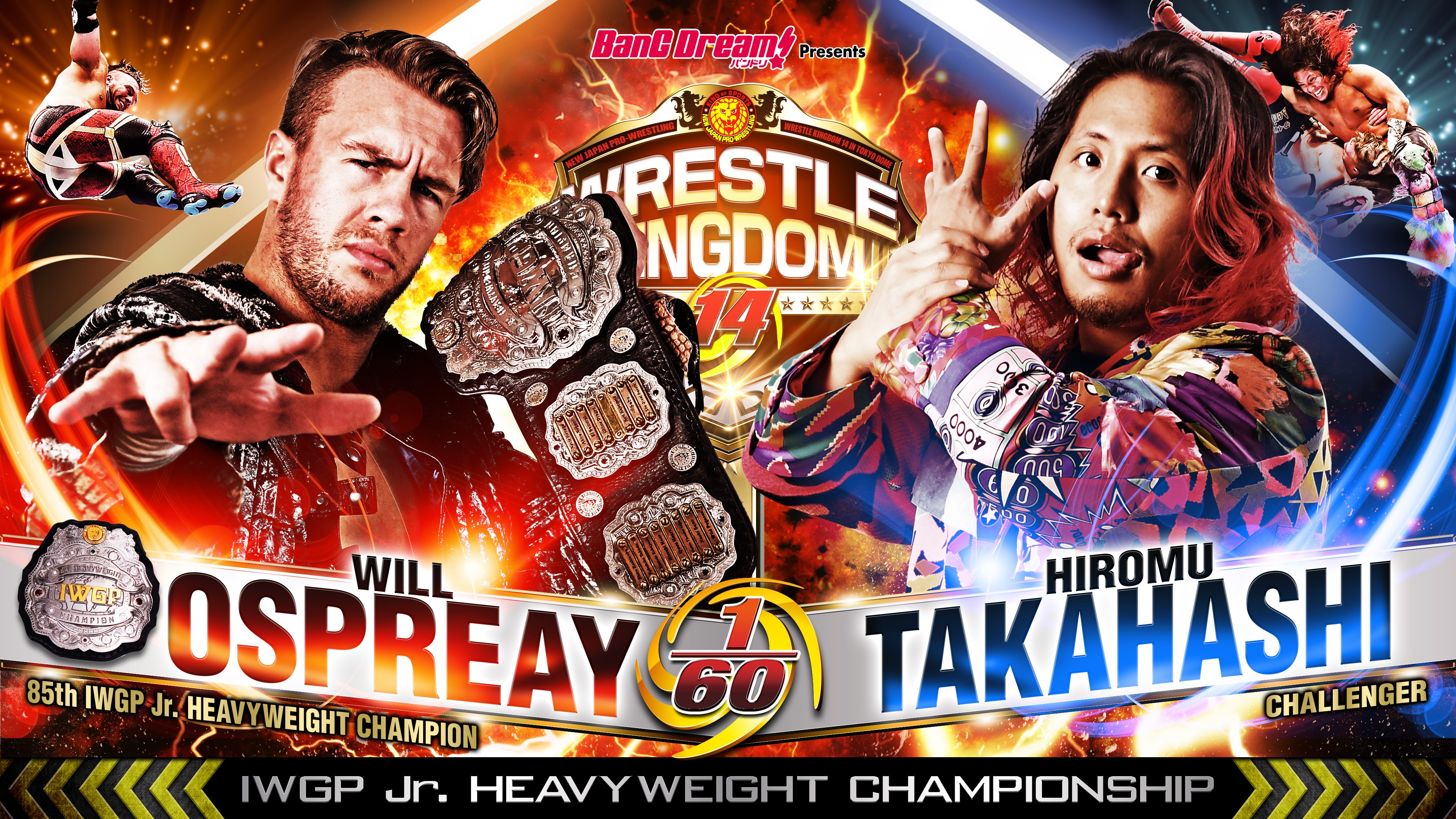 IWGP JR. HEAVYWEIGHT CHAMPIONSHIP MATCH
Will Ospreay (c) vs. Hiromu Takahashi
I'm getting anxious just thinking about this one. I know the bar has been set ridiculously high and the term "Match of the Year" is thrown around every few weeks. I know that my own expectations are going to be nearly impossible to live up to. But lord have mercy – this match is going to be incredible. Even with the level of talent in the Double Gold Dash, this match is more than likely going to set the tone for all of 2020 with an emphatic "FOLLOW THAT!"
A neck injury that at one point threatened to permanently retire Hiromu Takahashi instead simply put him on the shelf for 17 months. One day he was in the midst of one of the most unbelievable stretch of matches in junior heavyweight history, the next he faced a broken neck and a uncertain, unknowable future.
Tick, tock. The Time Bomb explodes at Wrestle Kingdom 14. Hiromu is back and he's coming for the title he never technically lost, against a man that in his absence has risen to the very top of the business. Ospreay transcended the junior heavyweight division by entertaining the G1 Climax, a case for and against him retaining here. But as good as Hiromu once was, can anyone coming off 17 months of inactivity defeat arguably the single greatest wrestler on planet Earth right now?
Prediction: Will Ospreay retains. The eyes are on Hiromu's return, but NJPW doesn't generally make a case of blowing everything they have all at once. Hiromu is protected by 17 months of time off, and loses nothing in defeat here. They could have him pick right back up where he left off, but Ospreay has become too big to just lose right away at the height of his run. There's more money in having Hiromu win the Best of the Super Juniors to prove to himself he's still the best, and winning the title at Dominion.
---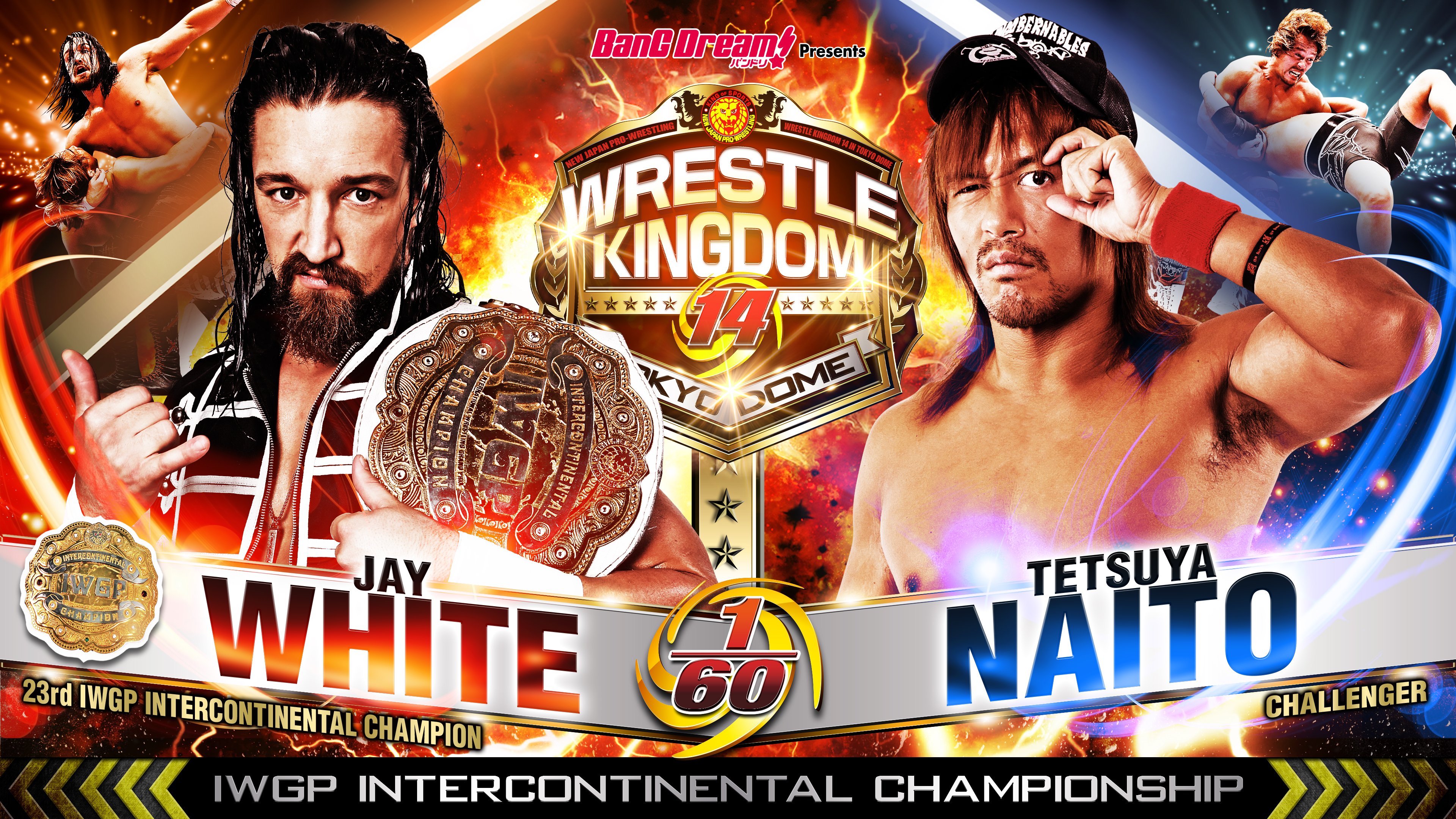 IWGP INTERCONTINENTAL CHAMPIONSHIP MATCH
Jay White (c) vs. Tetsuya Naito
Jay White had a crazy 2019. With Kenny Omega leaving NJPW entirely after Wrestle Kingdom 13, the "Switchblade" came off a massive upset over Kazuchika Okada at the Tokyo Dome and was thrown into the title picture, unseating Hiroshi Tanahashi to win the IWGP Heavyweight Championship.
So how do you finish out a year where you defeat the company's top two stars and become champion within the first two months? Well, if you're Jay White the answer to that question is, headline a sold-out Madison Square Garden, make it to the finals of the G1 Climax, and then defeat the third most popular star, Tetsuya Naito, to become the IWGP Intercontinental Champion.
We head into this rematch with Naito now arguably in the #4 spot, and despite being on the cusp of taking over NJPW on so many occasions, might just be the least favored to win the Double Gold Dash when this is all said and done. Maybe that makes him all the more dangerous as an underdog. Anything is possible…
For those unfamiliar, White, Naito, Okada and Ibushi have all declared that they want to become the first man to ever hold the IWGP Heavyweight and Intercontinental titles simultaneously. And so we have a mini tournament, where the winner here will face the winner of Okada/Ibushi in a Winner Take All main event on Night 2.
Prediction: Jay White wins to retain his title and move on to the finals of the Double Gold Dash on Night 2.
---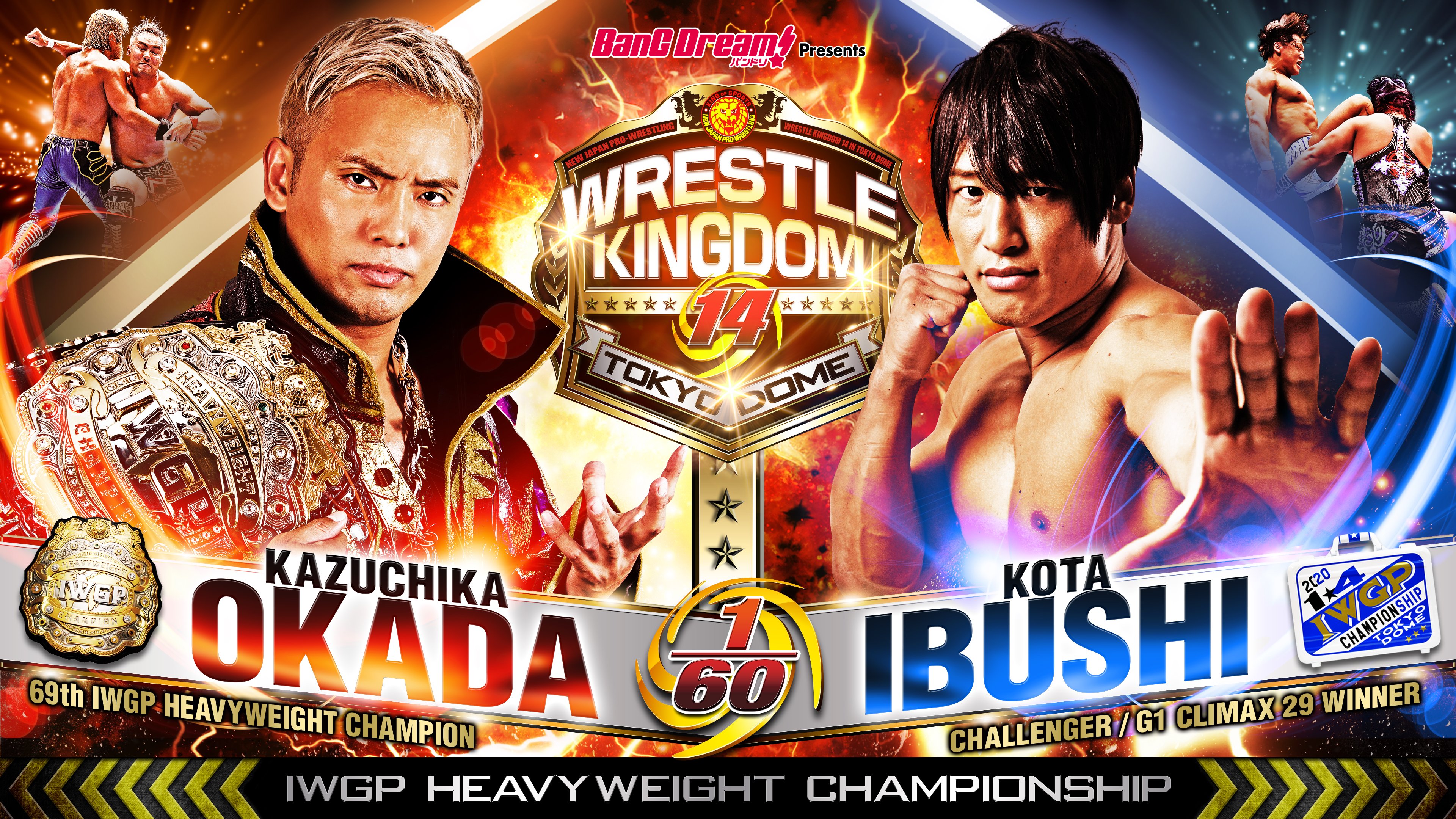 IWGP HEAVYWEIGHT CHAMPIONSHIP MATCH
Kazuchika Okada (c) vs. Kota Ibushi
Here it is. The big one. In one corner, arguably the greatest IWGP Heavyweight Champion in history in the midst of his fifth reign, headlining his sixth Wrestle Kingdom. In the other corner, the 2019 G1 Climax winner, whose tournament performance was the thing of absolute legend, poised to finally win the prize that has eluded him his entire career. No more distractions. No more Elite. No more Kenny Omega. Just the "Golden Star" Kota Ibushi, the "Rainmaker" Kazuchika Okada, and the main event of the Tokyo Dome to determine the world's heavyweight champion. It doesn't get much better than that.
Okada and Ibushi are each 1-1 in singles matches against one another. To be technical, Okada is actually up 2-1 in the series if you count the time Ibushi returned as a living cross-promotional advertisement under the comically oversized mask of Tiger Mask W. Those three matches, in terms of quality and what you can expect here, were rated 4.5, 4.75 and 5.0 by the Wrestling Observer Newsletter.
Prediction: Kota Ibushi wins to fulfill the boyhood dream and win the title he never could stuck in the shadow of Kenny Omega. He advances to the finals of the Double Gold Dash. Jay White has systematically defeated every single one of NJPW's top stars – Okada, Naito, Tanahashi – but he has never beaten Kota Ibushi. And there's your Night 2 story.